With March being Women's History Month, we wanted to take the time to spotlight just some inspiring women making a difference in Sunrise Engineering. Read on to hear what some of their biggest challenges and greatest professional rewards have been. We look forward to seeing what the future of Sunrise looks like with these women at the helm.
---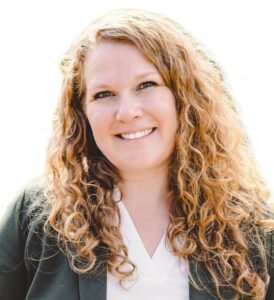 Kamilla Schultz, PE – Engineer – Logan, Utah Office
In order to provide a better life for her kids as a recently single mother, Kamilla took a leap of faith and decided to go back to school with two kids in tow. "I knew I needed to support my family. I wanted something that would provide me a continued challenge and help me grow and learn throughout my career, that would allow me to be creative, and where I would not be tied to a cubicle every minute of the day. Civil engineering rose to the top of the list. I started taking classes in college and loved every bit of it," says Kamilla. She graduated from Utah State University in December of 2009 and received her PE in 2018.
Right off the bat, Kamilla faced many challenges in her engineering career, beginning with graduating from college just as the great recession hit in Utah. After following her new husband to Ohio while he pursued his educational pursuits, Kamilla began her career volunteering for the City of Parma just to have some opportunity for experience while she waited for the market to come back enough for jobs to open up. Eventually, that turned into her first engineering job and changed the trajectory of her career from structural engineering to more civil and municipal engineering.
"I don't like to dwell on the challenges of being a 'female engineer.' I don't think its productive or helpful for me. That being said, I don't think it's okay to pretend that it's been without issue either," Kamilla explains. These challenges include being mistaken for a secretary, contractors question her more than her male coworkers, discrimination/retaliation over maternity leave, and being called "sweetheart" or "honey." She has learned not to take it personally and figures it says more about them than it does about her. She goes on to say that with every bad experience, she has also had at least one or more supportive experiences from coworkers or bosses who have genuinely championed her and helped to support her through the ugly stuff.
Relatively new to Sunrise, Kamilla enjoys the supportive work environment and that everyone is on the same team. She also appreciates how involved management is and that they genuinely want to help everyone grow and succeed. She aspires to become more of a leader and would love to help younger engineers as they gain experience.
When asked what advice she would give future female engineers, Kamilla says "its ok if things don't go to plan, if it takes a little longer than you thought, or if you need to pivot at times. Your journey is your own, there's no right way to have a career. Just keep working toward your goals, you will be amazed looking back someday at what you achieved."
---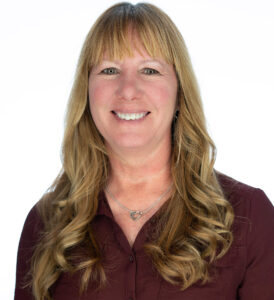 Renee Davies – Transportation Projects Office Manager – Fillmore, Utah Office
Renee has always worked in what society would consider a "man's world," from growing up as a farm girl, managing a restaurant, and managing an auto parts store. After moving to Fillmore, Utah, Renee began to pursue a job at Sunrise, calling Mark Huntsman for six months before she was finally hired. For the past 17 years, Renee has devoted her time and talents to Sunrise, beginning part-time helping at the front desk and learning about specs and contract documents. To advance within the company, Renee took it upon herself to gain more knowledge and become more valuable. "I would ask engineers what I could help with and learned the trade as I went, by taking initiative and being proactive," Renee said. She wore many different hats in many different departments until years later when the transportation department was formed.
One of Renee's favorite parts about working at Sunrise include the problem-solving aspect that comes with the job. She enjoys when she prioritizes her tasks and provides information to others in order to keep progress happening. "I do enjoy having a lot on my plate and thrive on that. I like to be assertive and acknowledged for a job well done." In terms of her future professional goals, Renee says she is always looking for ways to further her growth within the company and would enjoy assuming a leadership role that drives decisions and positively impacts or steers the company.
Renee acknowledges that being taken seriously and that you have something of value to offer is one of the many challenges women face in a "man's world." She explains that the stigmatism that women can't do a man's job was always there during her younger years, but we are seeing more and more women take on added roles in their career life. "There are many challenges in a traditionally male dominated and conservative industry. Being uncomfortable helps you grow more within your career, while being comfortable makes you stagnant. Always look for and expect improvement of yourself," explains Renee.
Renee goes on to explain that the best advice she can give to women thinking about pursuing a career in leadership is to find a mentor or advocate to help drive your career and take and an active role in directing that career. "Don't be satisfied with what you are given. Expect more for yourself, listen, and learn." Renee credits one of her mentors as her first baseball coach at age nine who took a chance on a girl, giving her confidence and self-worth by expecting as much or more from her as anyone else on the team.
---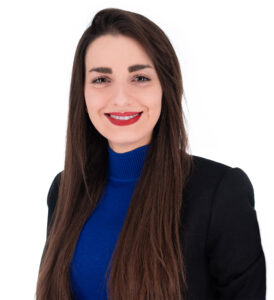 Sepideh Hakim Elahi, EIT – Engineer-in-Training – Phoenix, Arizona Office
Sepideh grew up in a family of engineers. "I think it's safe to say that the main reason that I became interested in the engineering field was because of my dad (electrical engineer) and siblings (chemical and industrial engineers)," she explains. With this legacy of engineers, Sepideh received her bachelor's degree in civil-surveying engineering, her master's degree in chemical engineering, and her PhD in environmental engineering. She began working at Sunrise in October of 2019, and passed her PE exam in December of 2022.
Despite the challenge female engineers may face to work harder and prove yourself in a predominately male profession, Sepideh enjoys having the opportunity to be involved in various types of projects at Sunrise which has allowed her to broaden her engineering knowledge. She credits two of her grad school advisors, Dr. Isabel Escobar and Dr. Otak C, as being her mentors, demonstrating how to be a strong-minded, determined, and hardworking professionals.
Expecting to receive her PE license this year, Sepideh aspires to become a well-rounded design engineer and project manager. She would also like to reconnect with the academic research aspect of engineering to remain well informed.
"Frankly, it can be challenging to be a female engineer, even in the 21st century! But with determination and self-belief you can do anything! At times, there will be adversarial people and circumstances. The key is to remain driven and keep your eyes on your goals! So, if it's truly your passion, go for it! Remember your intelligence and capabilities to do great are NOT predefined by your gender," Sepideh advises future female engineers.
---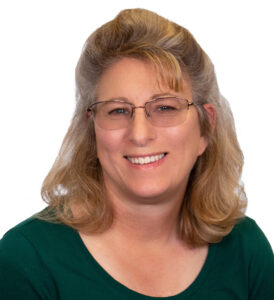 Alicia Cahoon – Building Inspector – Fillmore, Utah Office
Although Alicia went to school to be an elementary school teacher, what she really wanted was to be a stay-at-home mom. After her child was grown and getting ready to leave the nest, she thought she would go back to teaching, but it didn't feel right. She began praying about what to do, and then one day her brother, Corey, was talking to some of her nephews about being a building inspector. She immediately knew that was her answer and asked Corey how to become a building inspector.
Alicia began studying the building code book and getting certificates. Corey became a great mentor for her and invited her to go to work with him periodically so she could learn how to do the inspections. She then applied to a few cities and also to Sunrise. Now, Alicia has worked for Sunrise for three years and really enjoys her job.
The job is challenging enough that Alicia keeps learning, and diverse enough that she never gets bored.  One of the most challenging aspects for Alicia was that she did not have a background in building or construction. The code book was a new language to her, and she needed to look up a lot of definitions.
Alicia enjoys meeting new people and talking to them about their project/craft. She likes to see each phase of a structure going up. Her goal is to get three more commercial certifications and be able to inspect more diverse structures. "I am amazed at the projects people come up with and how they put them together," says Alicia.
She advises that becoming a building inspector is for anyone who likes to get out of the office, meet new people, see new places and projects, pays attention to details, and likes to learn new things.
---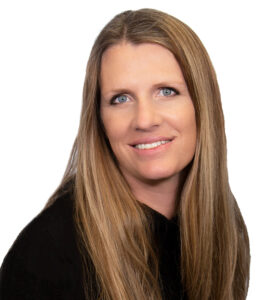 Danielle Aleman – Controller – Fillmore, Utah Office
Danielle graduated with her Bachelor of Science in Accounting in 2020 and her Master of Science Accounting in 2022, both from Western Governors University. She worked as a medical transcriptionist for nine years until the company she worked for sent all the jobs overseas, which enabled her to go back to school.  She had always loved numbers and knew she would enjoy the meticulousness of this work.
Working full-time and going to school full-time for her master's was a challenge, especially trying to find the balance between being a mom to four children and getting everything done for work while coaching three different sports teams.
Danni loves her job at Sunrise, commenting that the people she works with are awesome and that there is always something new to learn! Her brother is a CPA and when he was going to school, she would proofread his papers and loved the subject matter. He has been a great mentor to Danielle while obtaining her degrees.
Danni's professional goals are to obtain her CMA and continue to learn and advance her skills. Her advice to women going into the accounting field is that you can do hard things through perseverance, and it is never too late to try something new.
---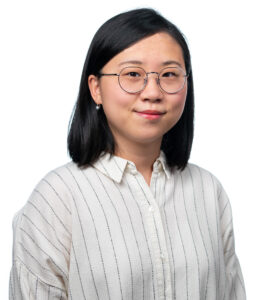 Hui "Angela" Xia, PE – Engineer – Salt Lake City, Utah Office
Inspired by her father who holds a PhD in chemical engineering, Angela decided to enter the engineering world because of her love for math, physics, chemistry, problem solving, and attention to detail.
Growing up in Shanghai, China, Angela studied water supply and sewage engineering at Tongji University. During her senior year in college, she went to the University of Illinois at Urbana-Champaign (UIUC) as an exchange student to study civil and environmental engineering (CEE). After graduating college in 2014, she continued her studies at UIUC and graduated with a master's degree in civil engineering the following year (2015), and received her PE license in December of 2018.
Before joining the Sunrise team in May of 2022, Angela gained notable experience working on stormwater management, environmental permitting, and remediation projects for Burns & McDonnell in the western suburbs of Chicago. In 2016, Angela relocated to Salt Lake City where she gained additional experience working on conveyance projects (gravity sewers and pressurized water systems), civil site design for water/wastewater treatment plants and pump stations, canals, hydrologic and hydraulic analysis, and network modelling working at Stantec (then MWH Global). Over the years, she also gradually acquired skills in project management, leading engineering design teams, and communicating with clients.
Some of the challenges Angela has encountered in her professional career stem from being introverted and feeling uncomfortable speaking in front of an audience at times. Not being a native English speaker makes it even more challenging for her. "However, engineering is not only about sitting in front of a computer and cranking out drawings. It is important to communicate with designers, engineers, and contractors accurately and efficiently when working together on projects. Presenting your ideas and results to the client in a professional and appealing way also matters a lot," she says.
Some of her favorite parts about working at Sunrise include working on local projects and being part of building the community where she lives, gaining new skills, the support and friendship she gets from her team, and the good vibes and work-life balance. She aspires to become an expert in linear infrastructure, maintaining a good relationship with existing clients, developing relationships with new potential clients, and help mentor younger engineers.
Angela encourages women thinking about going into the engineering field to not be discouraged by existing stereotypes and to "stay engaged and let your voice be heard."
---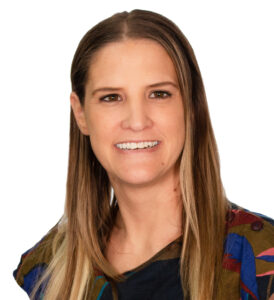 Michaela Adams – GIS Mapper – St. George, Utah Office
Michaela attended Southern Utah University for her undergrad and studied strategic communications with an emphasis in advertising and public relations. After that, she went on to get a GIS certificate and has been working in the GIS field for the past seven years. She's not quite sure what tipped her into the GIS field but admits that she has always loved maps and data and is grateful that she has fallen into a career where she gets to work with both, while still using her strategic communications background.
Before joining the Sunrise team three-and-a-half years ago, Michaela's first GIS job was for a hydropower company finding potential locations for power stations. After that, she worked for a company flying in a turbo commander airplane to collect data and map wildfires. Even though every field she has worked in since starting in the GIS field has been largely male dominated, it has taught her to work hard and to never give up.
One of her favorite parts about working at Sunrise is the many opportunities to learn and grow, which are two things that have always been important to her. She has loved getting to know and work with all the different service centers and seeing the company grow. She hopes to grow with Sunrise herself and help develop tools and solutions within the GIS department that will support our engineering efforts.
Michaela credits two of her professors at SUU, David Maxwell and Ellen Trenor, for being incredible mentors in her professional pursuits. "They both have pushed me out of my comfort zone to strive to do and be my best, never give up, and never stop growing," Michaela said. Her advice to women thinking about entering into the GIS field would be that there are so many options and opportunities and to just do it and don't give up!
---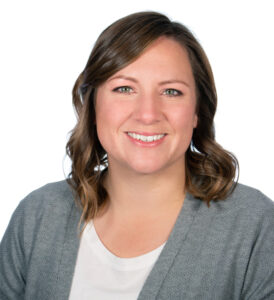 Courtney Ewell, EIT – Engineer-in-Training – Cheyenne, Wyoming Office
Courtney graduated from the University of Wyoming in 2011 with a bachelor's degree in civil engineering. After spending the next 10 years at home with her three children, she started working part-time for Sunrise in February 2021. Since then, she has been learning more about water, wastewater, and transportation projects every day.
As a freshman in college, Courtney did not know what she wanted to major in, but she knew that she loved math. After experiencing the world of engineering as an intern and participating in all phases of a project starting with the topo survey, design, and finishing with construction staking, she found that she loved the variety of field and office work that engineering offered.
One of the most challenging parts of Courtney's career has been navigating the transition from being a stay-at-home mom, to being back in the professional world. "It has been challenging and rewarding to remember and relearn the technical information that I had not utilized for so long. I am grateful to work in an environment with coworkers who are patient and helpful and focused on building a stronger team," Courtney said.
At Sunrise, Courtney likes that the work is rarely boring. She loves that she is constantly working on different projects and stepping out of her comfort zone on a regular basis. She also appreciates the culture that Sunrise fosters. She has been able to work closely with CJ Walker, PE, and TJ Stark, PE, who both have vast amounts of knowledge to share and are always ready to answer questions, teach, train, and encourage the team.
When asked what advice she would give other women thinking about entering in the engineering field, Courtney says "I would just tell them that the work it takes be an engineer is worth it. It's a rewarding career where you get to help your community and the communities around you."
---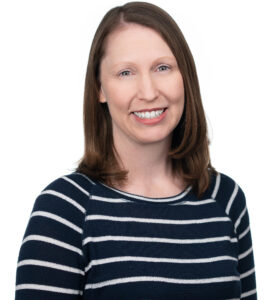 Karen Peterson – Community Development Service Center Manager – Ogden, Utah Office
Karen is one of only two female managers within the company. She received her BA from Utah State University and her MPA from Southern Utah University, with the goal to become a city manager. As with many others, her plan deviated due to a number of twists and turns along the way. She has since served two terms on a city council and currently serve in the Utah House of Representatives.
Karen landed in the community development field after working with Mark Huntsman when he was the Chair of the Utah State Board of Education, and she was serving in the Governor's office. When she left the Governor's office, Mark reached out to discuss the possibility of her coming to work for Sunrise. "I was intrigued with the prospect of building a new service center, and working to support our client communities with the pressures they are feeling from growth. It has been a great experience," Karen explained.
With the challenge of taking a nontraditional professional path and staying home when her kids were young, Karen has been able to build professional relationships which have been key to the opportunities she has been given. Now that Karen has been with Sunrise for over a year, she loves her incredible community development team and enjoys every person that she gets to work with. "I love that it is a family friendly company and has a culture of creating opportunities for those that work here," says Karen.
She advises women thinking about entering the community development field that the design of space works best when multiple perspectives are considered. "A table full of men and women are going to create a better outcome that works for more people," Karen said. She also advises future female managers to look for mentors within the company that can help you increase your competencies and professional skills. "Don't be afraid to take on leadership roles, work with a collaborative coworker, and build a reputation of always delivering."