Engineers Week was founded by the National Society of Professional Engineers in 1951 and is dedicated to ensuring a diverse and well-educated future engineering workforce by increasing understanding of and interest in engineering and technology careers. It is a week-long even to:
Celebrate how engineers make a difference in our world
Add your voice to the conversation about the needs for engineers, technicians, and technologists
Engage students in engineering
Sunrise Engineering has top-tier talent and experience when it comes to engineering. This week, we celebrate our incredible professional engineers, engineers-in-training, engineering technicians, CAD drafters, construction administrators, project managers, and support staff!
In honor of #EWeek2023, the following are some fun engineering facts:
---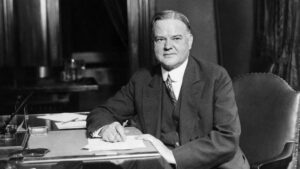 Engineering Week Fun Fact #1 – Herbert Hoover was an Engineer
President Hoover is the only president who had an official background in engineering. In 1891, he graduated from Stanford University with a bachelor's degree in mining engineering. Before becoming the 31st president of the United States in 1928, President Hoover greatly enjoyed his work as an engineer and spoke of the profession in high regard.
"It is a great profession. There is the fascination of watching a figment of the imagination emerge through the aid of science to a plan on paper. Then it moves to realization in stone or metal or energy. Then it brings jobs and homes to men. Then it elevates the standards of living and adds to the comforts of life. That is the engineer's high privilege."
Read more here: https://hooverpresidentialfoundation.org/speeches/engineering-as-a-profession/#:~:text=The%20great%20liability%20of%20the,the%20judge%20like%20the%20lawyers.
---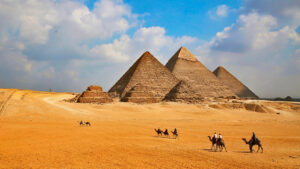 Engineering Week Fun Fact #2 – The Earliest Example of Civil Engineering is the Great Pyramid at Giza
Of all the seven ancient wonders of the world, the Great Pyramid at Giza is the only one that still survives, and this is largely due to civil engineering. While no records exist about the actual methods of construction, the mathematical patterns of the structure and the internal passages suggest advanced planning and engineering.
---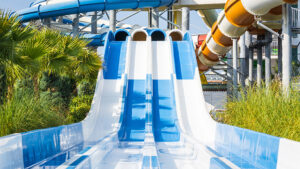 Engineering Week Fun Fact #3 – Civil Engineers Created the Waterslide
The waterslide is one of the most beloved attractions at a theme park, but it wouldn't have been possible without civil engineering. An engineer designed a pumping system to discharge just enough water to the flume for the slide to operate. The water slide was also designed to withstand the force of the water, wind, and weight of the people on the slide.
---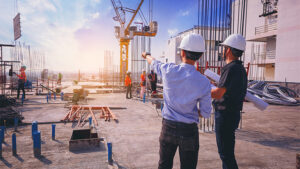 Engineering Week Fun Fact #4 – Engineer and Architect Used to be One in the Same
While civil engineering has been around since the beginning of human civilization, the terms engineer and architect used to refer to the same person. It was until the 18th century that civil engineering was coined to refer to the design and construction of civilian infrastructure. The Institution of Civil Engineers was founded in London in 1818, and the profession was formally recognized in 1828.
---
Engineering Week Fun Fact #5 – Sunrise Engineering Statistics
Sunrise has over 200 engineers, technicians, and support staff.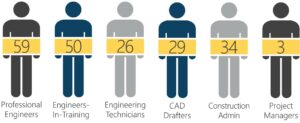 Sunrise has experts in 15 different specialties
Water
Wastewater
Drainage/Flood Control
Irrigation
Land Development
Renewable Energy
Electrical
Structural
Transportation/Transit
Construction Engineering
Industrial and Mining
Environmental
City Engineering
Parks, Rec, and Community Facilities
Natural Gas Design
Sunrise has professional engineering licenses in 12 different states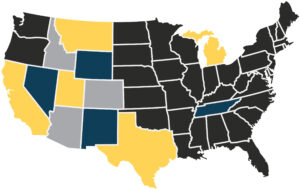 Sunrise has 13 engineering departments operating out of 20 offices
Cedar City, Utah
Cheyenne, Wyoming
Fillmore, Utah
Ft. Collins, Colorado
Kingman, Arizona
Laramie, Wyoming
Las Vegas, Nevada
Logan, Utah
Phoenix, Arizona
Prescott, Arizona
Richfield North, Utah
Richfield South, Utah
Roosevelt, Utah
Salt Lake City, Utah
South Ogden, Utah
St. George, Utah
Star Valley, Wyoming
Steamboat Springs, Colorado
Utah County, Utah
Vernal, Utah
---
A very special thank you to our amazing team of engineers, engineers-in-training, engineering technicians, CAD drafters, construction administrators, project managers, and support personnel for all your hard work and dedication!
Below is a preview of our Engineers Week 2023 celebrations: