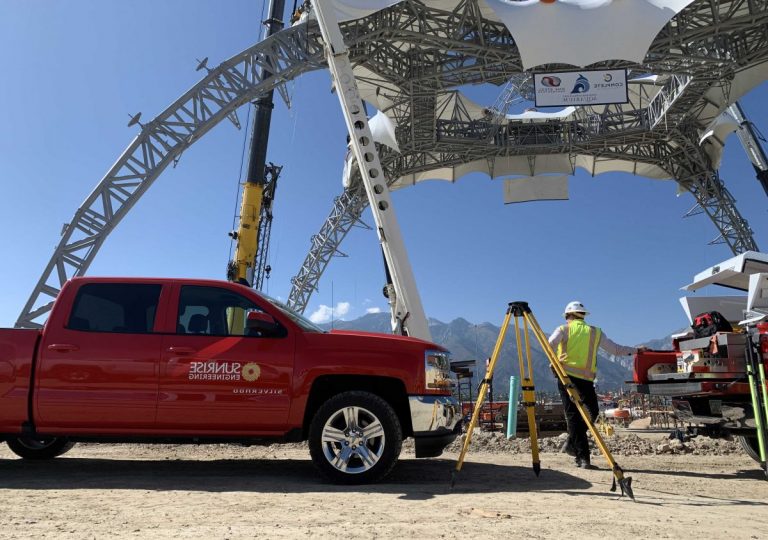 Survey • On-Call Surveying Services
Sunrise is acknowledged as a regional leader for surveying services. Our surveying division provides on-call services to  both public and private clients in a diverse range of projects across the western United States including topographic, aerial control, boundary, and right-of-way surveys. Our experienced employees ensure tasks are completed on schedule, and our crew chiefs are competent and capable to read plans, perform calculations in the field and make adjustments to site condition thus minimizing support from the office. Our experience makes us better able to recognize critical features in the field and leverage our tools and resources for better efficiency and quality.
We routinely implement "HDS" or High Definition Scanning, which gathers precise laser scan information, allowing our engineers to evaluate a particular project site. Advanced laser scanning tools have improved the data-collection production of surveying by amassing tremendous amounts of detailed data to the point that such information could not be obtained by any other surveying technique. Our project experience demonstrates our capabilities in every surveying need that our clients may need.
The following is a representative sample of the clients we provide on-call services for:
Paiute Pipeline
Southwest Gas
Rio Tinto/Kennecott Utah Copper
Phoenix, AZ
Town of Gilbert, AZ
Draper City, UT
Herriman City, UT
Apache Junction, AZ
Avondale, AZ
Chandler, AZ
CenturyLink
Town of Queen Creek, AZ
SME Steel
Millard County, UT
Globe, AZ
Goodyear, AZ
Team Fishel
Telecom Construction
Magnum Energy
Mesa, AZ
Tempe, AZ